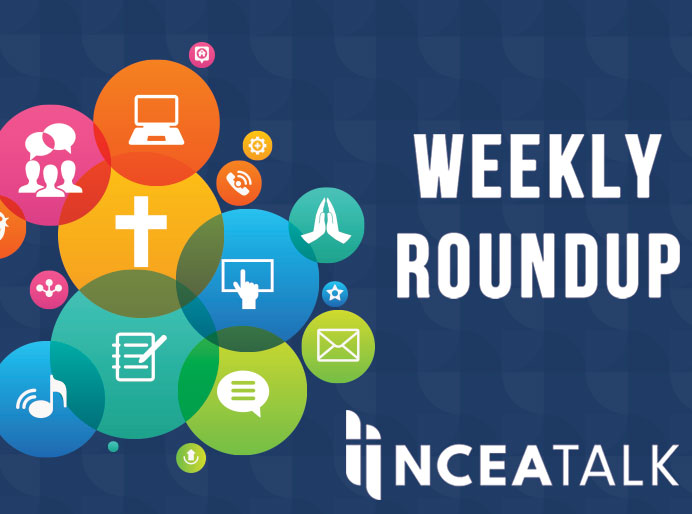 Didn't have the chance to check in with NCEA Talk each day? We've got you covered. Each Friday NCEA Talk will post a roundup of Catholic education news and resources from the week.
In case you missed it…
NCEA Monthly Feature School: St. Louis Catholic School in Louisville, CO
The Diocese of Owensboro Academic Standards and Catholic ID
CLS Preview Podcasts (Week Two)
Additional Resources:
Student to Student: A Catholic School Response for Hurricane Relief 2017 – #StudentToStudent
---
Catholic School Educators: Call to Discipleship
NCEA is pleased to share its new weekly reflection series "Catholic School Educators: Call to Discipleship" for the new liturgical year. This series shares reflections for educators contributed by Justin McClain, teacher at Bishop McNamara High School and author of Called to Teach: Daily Inspiration for Catholic Educators. The weekly reflections are a regular feature in our Friday Weekly Round Up blog posts on www.nceatalk.org – check back each Friday for a new weekly reflection.
Twenty-fifth Sunday in Ordinary Time – September 24, 2017
Gospel Reading: Matthew 20:1-16a
"Thus, the last will be first, and the first will be last."
Humility is a virtue that we must embrace in our Catholic school communities. It is multi-faceted: we must take every chance to embrace it ourselves, as well as lead our students to model Christ's example of humility and meekness. To be humble is to better open ourselves to the Holy Spirit so that we can better encourage our students toward holiness. One of the best methods of practicing humility is to recall that the Church already has a Messiah… and we are not him!
Despite educators' public prominence, how can we be sure to embrace humility in our lives?