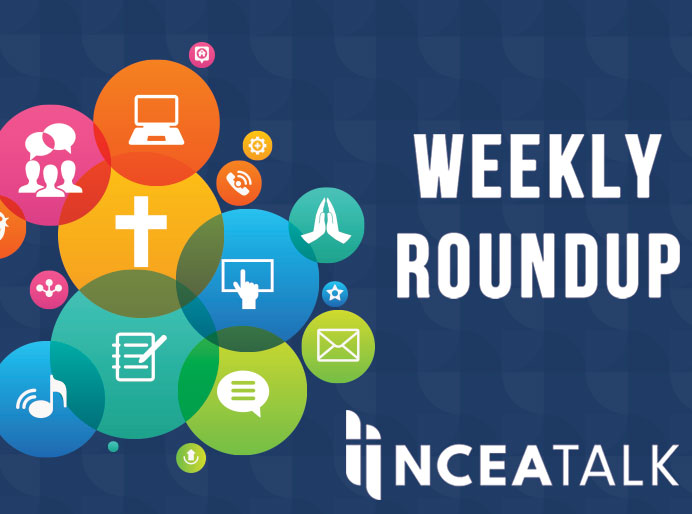 Didn't have the chance to check in with NCEA Talk each day? We've got you covered. Each Friday NCEA Talk will post a roundup of Catholic education news and resources from the week.
In case you missed it…
November Catholic Social Teaching
Episode 080: Catholic Schools Market Research – Jennifer Robbins
Improving Instruction and Increasing Learning
Marketing Catholic Schools Through Leadership: 2017 CLS Keynote Address
Guest Blog: Dr. Kevin Baxter on California Dreamin'
Catholic School Matters Top Five
Additional Resources:
Student to Student: A Catholic School Response for Hurricane Relief 2017 – #StudentToStudent
---
Catholic School Educators: Call to Discipleship
NCEA is pleased to share its new weekly reflection series "Catholic School Educators: Call to Discipleship" for the new liturgical year. This series shares reflections for educators contributed by Justin McClain, teacher at Bishop McNamara High School and author of Called to Teach: Daily Inspiration for Catholic Educators. The weekly reflections are a regular feature in our Friday Weekly Round Up blog posts on www.nceatalk.org – check back each Friday for a new weekly reflection.
Thirtieth Sunday in Ordinary Time – October 29, 2017
Gospel Reading: Matthew 22:34-40
"[Jesus] said to him, 'You shall love the Lord, your God, with all your heart, with all your soul, and with all your mind.' This is the greatest and the first commandment. The second is like it: 'You shall love your neighbor as yourself.' The whole law and the prophets depend on these two commandments.'"
Catholic school communities would do well to remind our students that when we place our love for God first, everything else falls into place. It is far easier to love our neighbor when we love God foremost.
In what ways do you lead your students to an awareness of God's love for them?