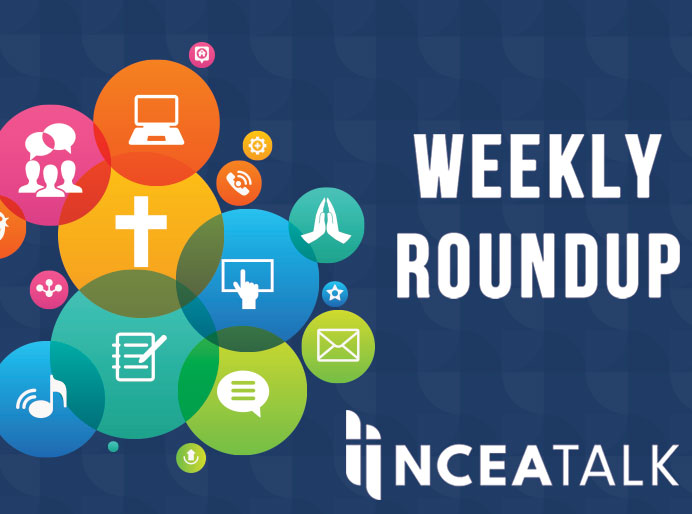 Didn't have the chance to check in with NCEA Talk each day? We've got you covered.
Professional Development
Mark your calendars for Summer Professional Development!
Major Announcements & Deadlines
Calling all NCEA members for ISTE19! NCEA's new partnership with the International Society for Technology in Education (ISTE) means that members receive a special discount on the year's most influential edtech event! ISTE19 is June 23-26 in Philadelphia, PA. Register today with Code ISTE40 and receive $40 off registration. This year's conference includes over 1,400 learning opportunities, inspiring speakers and an expo hall where you can explore and find out about new apps, tools and software for your classroom or school. A special 'NCEA track' of speakers will be shared in the coming weeks so you can make sure not to miss your fellow Catholic educator sessions! 
The Call for Proposals for NCEA 2020 is now open! You may submit a proposal for a session at the NCEA 2020 Convention & Expo (April 14-16), 2020 NCEA Visions for Excellence Soul of Youth Sports Seminar (April 15) or the 2020 New Directions Exceptional Learners Post Conference (April 17)—all taking place in Baltimore, MD!
To be among the first to know about NCEA 2020-related news, especially if you're interested in our sports, marketing and exceptional learner events, share your information and we'll take care of the rest.
Green Ribbon School Awards: Congratulations to the four Catholic schools that received the U.S. Department of Education Green Ribbon Schools award that is presented to schools that have shown a commitment to reducing environmental impact and utility costs, improving health and wellness, and ensuring effective sustainability education. They are: St. James Academy, Solana Beach, CA; Saint Agnes School, Louisville, KY; Saint Leo the Great School, Lincroft, NJ; and Immaculata Catholic School, Durham, NC. Information about the upcoming application for the Green Ribbon Schools award will be posted as soon as they are made available by the U.S. Department of Education.
Just Released! English Learners White Paper – "Encountering, Embracing and Educating: Answering Our Call to Serve Culturally and Linguistically Diverse Students." The white paper provides a solid rationale for our Catholic schools in serving and supporting linguistically and culturally diverse students, a discussion around the potential challenges in executing this mission and a roadmap for future implementation and success.
This summer, the International Office of Catholic Education OIEC 2019 World Congress will be in New York, June 5 – 8, 2019, at Fordham University, Lincoln Campus. The OIEC hopes to welcome at least 1,000 people from around the world, representing about 210,000 schools in more than 100 countries — 46 million students. For more information and to register for the congress, go to: https://www.oieccongress.com

.
Relevant Resources